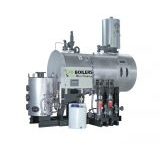 Combined Condensate & Blowdown Tank
Stainless Steel Feed and Condensate Tanks
Chemical Dosing and Filters
Mini Duplex Water Softener
Water Service Module
The module supplies steam boilers with degassed and chemically conditioned feed water and disposes of the desalting and waste water. The WSM-V water service module for full deaeration is suitable for all steam boilers with capacities ranging from 2,000 to 100,000 kg/h, the WSM-T module is used for partial deaeration for steam boilers with capacities of up to 8,000 kg/h. This module consists of the steam-heated feed water tank, the chemical dosing system, the blow-down and expansion tank, a water sample cooler and the associated fittings as well as it's own control panel. Additional components such as a heat recovery facility for alkalis or a second chemical dosing or feed pump module are optionally available. The WSM-V has a spray or trickle/cascade deaeration device mounted on the feed water tank.
Combined Condensate & Blowdown Tank
The Combined Feed & Condense Return Tank is made from stainless steel and is designed in a vertical form to fit on top of the blowdown vessel, thereby saving floor space. The condensate return section is sealed below the feed water make up section by a division plate, thereby warming the incoming feed water make-up. A vent from the condensate return section to the upper feed water section is designed to vent off condensable gases. Connections for the tank drain, boiler feed pump, twin condensate returns, overflow, compliant water inlet, temperature gauge and a tank heating system are provided. The Blowdown Vessel complies with HSE Guidance Note PM60 and is manufactured to PD5500. CAT.3. It is issued with construction certification acceptable to the statutory bodies and is built to a design pressure of 5 bar.g. The vessel is complete with all the necessary inlets and outlets i.e. vent, overflow, water cooling, blowdown inlet, drain and pressure gauge test point, plus inspection access  and is finished painted black.
Blowdown Vessels
Designed to accept the contaminants from a boiler which in turn prevents the build-up of solids in the bottom of the boiler.
Flash steam is vented to atmosphere and the condensed water overflows to drain.
Robust construction of vessel provides long service ability.
The Blowdown Vessel complies with HSE (Health and Safety Executive) Guidance Note PM60 and the SAFed (Safety Assessment Federation) document BGO3.
Manufactured to PD5500 Category 3, is issued with construction certification and is acceptable to all statutory bodies.
Stainless Steel Feed and Condensate Tanks
Maintenance costs are virtually eliminated thanks to the superior design and durable construction of our stainless steel feed and condensate tanks. A steam cushion insulates the raw water make-up section from the condense section giving the effect of pre-warming the cold make-up water via the hot returning condensate, which further enhances plant efficiency.
Chemical Dosing and Filters
Pre-treating boiler feedwater to remove or modify impurities is critical for the longevity and efficiency of steam boilers. CFB Boilers' high quality Chemical Dosing units dose chemicals straight into the condensate return/feed water tank or the boiler feed water line, while our filters are designed to remove solid particles and reduce contamination to improve the quality of the end product.
Simplex Water Softener
Suited to consistent demand applications of moderate total water consumption, the Simplex Water Softener can be programmed manually or automatically for regeneration to occur during low water usage periods. Cost effective, the units provide many years of reliable service with minimal maintenance, and are ideal for use in the laundry, hotel and restaurant industries.
Mini Duplex Water Softener
For maximum performance and efficiency, the Mini Duplex Water Softener cannot be beaten; this innovative unit is kinetically powered by moving water rather than electricity, and features a patented twin-tank design, which guarantees an uninterrupted supply of soft water, 24/7. The result is a compact, cost-saving, and convenient solution to boiler and appliance protection.