Over 126 years of
Great British
Manufacturing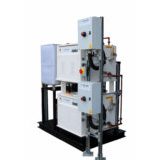 Ross 60 and Ross 60 Combi / Triple
Ross 60 and Ross 60 Combi / Triple
When it comes to flexibility and cost effectiveness, the Ross 60 packaged electric steam boiler is hard to rival; this innovative boiler not only features two heating elements – available in combinations of 7.5 to 60 kW – for precise power ratings, and independently operating circuits which allow the use of one or both elements, but also entirely stackable, meaning future increases in steam capacity can be met with ease.
For fast and easy installation with minimal system downtime, the Ross 60 has an integral feed water pump with connection for either a tanked or direct water supply. Each boiler is robustly constructed from carbon steel or stainless steel for reliable and long-lasting operation.
Ross Major Electric
For processes requiring high output of steam, look no further than the Ross Major Electric Steam Boiler. Boasting a large steam chamber for dryer steam and quick response, incoloy elements for minimal maintenance, and a compact, space-saving design that enables the boiler to be sited next to the application for lower installation costs, the Ross Major delivers on every minor detail.
The packaged unit includes a pressure safety gauge, safety blowdown, gauge glass set, steam outlet valve, boiler feed pump and level controls fitted as standard. The control panel is mounted to the outside of the unit to ensure easy access and to avoid overheating of the controls and wiring.