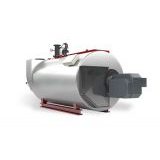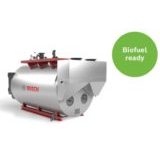 UT-L Hot Water Boiler
Boasting low emissions and a high efficiency output, the UT-L fire-tube shell boiler features a wide range of outputs to suit low temperature and pressurised hot water requirements.
The UT-L is suitable for installation in residential and commercial/industrial premises, including office buildings, hospitals, residential homes and spas.
This low cost, low temperature boiler can also be used as a stand-by and peak load boiler for combined heat and power stations, and in mobile containerised boiler plant rooms.
UT-M Hot Water Boiler
The UT-M three-pass fire-tube shell boiler series is a great option for users that require a cost-effective, reliable, and powerful solution to a pressurised medium hot water boiler.
Our versatile range of UT-M boilers are suitable for installation in municipal applications, including swimming pools and sports complexes, as well as large commercial applications such as airports, factory halls, greenhouses, and multi-occupancy housing and residential complexes.
UT-H Hot Water Boiler
Our precision-engineered range of fire-tube three-pass boilers is designed for the production of hot water to very high pressure and temperatures – up to 30 bar and 240°C respectively.
A powerful and reliable shell boiler, the UT-H is suitable for local authority applications, such as sports complexes and swimming pools, as well as commercial process installations in greenhouses, factory halls and airports, and for the supply of heat to residential complexes and multi-occupancy housing.
UT-HZ Hot Water Boiler
The double-flame tube design of the UT-HZ offers total flexibility in the high power range from 13,000 to 38,000 kW at up to 30 bar. The UT-HZ produces consistently efficient heating and process heat, particularly in partial load ranges. By combining it with a flue gas heat exchanger or condensing heat exchanger, and combustion optimising components, you can further improve efficiency and lower running costs.
Heat supply for the future:
Low-NOx or CO2-neutral operation possible
The UT-HZ is compatible with various fuels and can be combined with multi-fuel burners. Additional solutions for low NOx, hydrogen, biofuels or green electricity sustainably reduce CO2 emissions and protect the environment. The climate-neutral fuel design can be implemented either at the factory or later for retrofitting.
GB162 Hot Water Boiler
The GB162 hot water boiler provides round-the-clock demand for heating and hot water, reduces energy consumption, and, as a Carbon Trust ECA registered product, allows businesses to claim 100% of the first year capital allowance.
Single boilers can automatically modulate output down to 19kW or less in order to precisely meet heat demand. Condensing outputs of up to 800kW can be achieved when combining boilers (from two to eight) using CFB Boilers' cascade kits. Multi-boiler cascade systems can modulate down to 2.5% of total output. Suitable for use in the hotel and care home industries.