Universal Series UL-SX Packaged Steam Boiler Range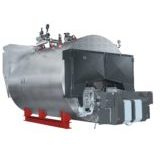 Universal Series ZFR-X Range Packaged Steam Boiler
4VT Series Steam Boilers
Available in 12 models from 10 to 130 HP, the 4VT range delivers precise, controlled temperatures to a wide variety of applications and equipment, making it an ideal choice for many steam requirements. Hand crafted at our manufacturing facility in Britain and featuring a range of class-leading innovations such as energy-saving four-pass technology and a 30% larger steam chamber, the 4VT Steam Boiler is arguably the most energy efficient, high performance, reliable, and low maintenance steam boiler on the market.
Universal Series UL-SX Packaged Steam Boiler Range
Exceptional steam quality, outstanding energy efficiency, and flexible output for fluctuating steam demand makes the UL-S 3-pass wet back shell boiler the ideal choice for applications with medium to high steam output requirements.
This compact boiler ensures optimum flow of flue gases thanks to an innovative combustion tube that has a wetback-reversing chamber, in addition to first and second flue ways. Furthermore, the offset furnace design of the UL-S optimises pressure resistance to perfectly match the water volume against internal heat transfer surfaces, ensuring even heat transfer.
Rapid water circulation within the UL-S allows dry steam to be produced quickly and efficiently, while the large water chamber offers sufficient storage to accommodate sudden peaks in demand.
CFB Boilers has decades of experience in the installation, commissioning and maintenance of the UL-S Series, which is manufactured to the highest standards in Germany.
Universal Series ZFR-X Range Packaged Steam Boiler
This double flame/smoke tube boiler with separate gas passages is suitable for operation with just one burner. The three-pass principle with a rear flue gas reversing chamber is positioned in the water chamber.
The economizer and superheater can be easily added according to the modular principle. The dimensions of the flame tubes, smoke tube bundles, water chamber and steam chamber have been optimised from the point of view of thermodynamics. Radiant and convection heating surfaces create a unique dynamism when used in single flame tube operation. The heat supplied by the fuel is converted into steam without causing any material stress thanks to flow fittings mounted on the water side. The main areas of use of ZFR / X steam boilers are all sectors of business, the processing and supply industries, and public facilities.